Launch of the online training modules of the European project UNI-ECO on topics related to sustainable development for UM students and staff.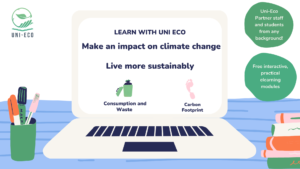 Students and staff from the five partner universities of the European project UNI-ECO can now learn more about sustainable development issues through two new free e-learning modules on consumption and waste ("Consumption & Waste" - available in English only) and carbon footprint ("Carbon Footprint" - soon available in French), launched on 18 October 2021.
These are the first two modules out of a total of five that will be developed by the project's partner universities (University of Montpellier, University of Utrecht, Trinity College Dublin, University of Barcelona and Eötvös Loránd Tudományegyetem [Budapest]) and made available to their academic communities.
These modules contribute to the overall objective of the UNI-ECO project, which is to create practical and collaborative tools for innovation in sustainable development at the university. Dr. Silvia Gallagher (Trinity), who is leading the design and development of the modules, in collaboration with the international team of partner universities, points out that the modules focus on practical case studies, tips and tools for behavioural change, and are open to all students and staff who want to live more sustainably and increase their knowledge and awareness of sustainability. Each online module contains videos, links, quizzes and interactive presentations created by experts, and can be completed in approximately 1.5 hours. Learners receive an electronic certificate upon completion of the module.
Both online modules are available free of charge on the UNI-ECO learning platform and no prior knowledge of sustainable development is required to participate.
Elodie Ernoult, a member of the University of Montpellier team that developed the carbon footprint module, explains that "the module aims to provide the context and essential information to help you understand the effect of carbon on the Earth and how a carbon footprint is calculated, so that you are equipped to analyse your own situation and make the right decisions.
"Sharing knowledge and practical actions for sustainability on university campuses is important for staff and students as it enables us all to become more engaged with the sustainability goals in our universities," says Michele Hallahan, Head of the Consumer and Waste Module and Sustainability Advisor in the Dean's Office at Trinity College Dublin.
The UNI ECO project is a 'strategic partnership', co-funded by the European Commission's Erasmus+ programme. This three-year project, which started in 2019, is dedicated to improving sustainability behaviours, practices and projects in the five universities. Coordinated by the University of Montpellier, it is also supported by the partners CESIE and Uni Med (Unione Delle Universita Del Mediterraneo).
UNI-ECO uses the United Nations Sustainable Development Goals (SDGs ) and the European Green Deal as roadmaps to support change at all scales.
More information by email.