Revitalizing the scene of European higher education is the UM's new goal through the CHARM EU project alongside the university of Barcelona, university of Utrecht (Netherlands), Trinity College from Dublin (Ireland), Eötvös Loránd university (Hungary).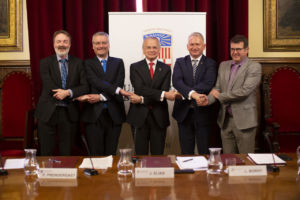 The European Commission announced last June 26th the names of higher education institutions from all over Europe who will participate in the first alliances, CHARM EU is one of the lucky ones with a funding of 5 million euros on the next three years.
This ambitious project aims to create an interuniversity campus in which students, PhD students, university staff, professors and researchers can evolve smoothly. The partners commit to gather their expertise, platforms and resources to offer common curricula or modules that span across disciplines.
CHARM EU reflects UM's expertise on the international scene in terms of academic cooperation and European projects. UM is committed to this project as a decisive partner, ready to face the great future challenges by participating fully in the construction of CHARM EU, which crosses innovation, research and teaching domains.
The development of CHARM EU's vision requires a significant investment of the entire university community (staff and students) to develop, share, create and discuss together on the topic and a calls of interest will be communicated soon.