The dissemination of scientific culture means the transmission of knowledge, techniques and know-how between science and society. This is one of the missions of the universities and it is a voluntary approach that mobilises the University of Montpellier and its scientific community: researchers, teacher-researchers, doctoral students, etc.
Scientific culture is full of actors and initiatives aiming to push back the frontiers of knowledge. Its dissemination aims at sharing, exchanging, experiencing and debating ideas on scientific issues. At the University of Montpellier, it is illustrated in particular by :
Disseminating scientific knowledge to as many people as possible
Promoting scientific and technical careers among young people
The development of exchanges and partnerships
Training in scientific mediation (master students, doctoral students)
The UM's scientific culture services coordinate the dialogue between science and society through a wide range of events on the University of Montpellier's network of campuses and beyond, for a public of citizens, students, high school pupils and schools. To do this, the teams work with numerous partners: research organisations, CCSTI, associations, cultural centres, public and private institutions.
The Science Bar: the thirst for knowledge!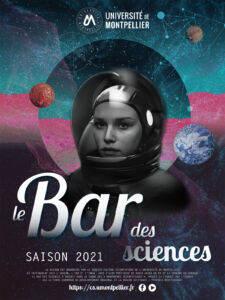 The Scientific Culture services offer an annual season of Bar des sciences on science and society topics. The Science Bar, produced by the University of Montpellier in partnership with INRAE, INSERM and IRD, has for several years been offering monthly scientific culture events contributing to the dialogue between science and society. Unlike formal conferences, these debates are invitations to exchanges between specialists in a subject and the general public.
The Science Festival
The Fête de la science is a major annual event for scientific culture. Thanks to the mobilisation of actors in the faculties, research organisations, laboratories, associations, etc., science is exhibited and brought to life through varied, surprising and astonishing activities.
The University of Montpellier is coordinating the event at the level of the Hérault department and is piloting the Montpellier Science Village located in the Faculty of Education. Placed under the sign of exploration and discovery, the Montpellier Science Village is full of activities for young and old alike: workshops, demonstrations, experiments, games, screenings, conferences... A great opportunity for exciting encounters, sharing of knowledge and discoveries to better understand the world around us and imagine the future!
The highlights of the 2020 Science Village in digital format can be found on the UM's YouTube channel.
Exhibition "NounOURS, from the cave bear to the teddy bear
The next exhibition proposed by the Scientific Culture Department is a continuation of the original educational and scientific popularisation operation called "peluchology", which was created in 2010. Designed to travel, it is made up of museographic panels, display cases of objects, collections of books and teddy bears. It is a beautiful tribute to this noble and sacred animal, fallen god and king of teddy bears.