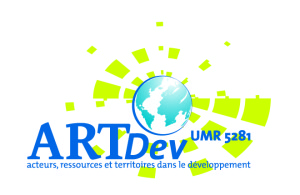 The ART-Dev joint research unit explores the links between territories and contrasting development dynamics. The analysis of these links takes into account the mobilisation of resources, strategies and configurations of actors affecting public policies, the economy and the environment. ART-Dev's scientific positioning is based on several themes (rural, urban, environment, energy, migration, transport, etc.) and on diversified geographical areas (North and South).
One of the unit's original features is its ability to compare Southern and Northern areas and contrasting situations within the same country. Its current scientific project is based on three research axes and a transversal programme:
axis 1: Rural recompositions and public policies ;
Axis 2: Natural resources and environmental regulation ;
axis 3: Interfaces, anchoring and circulation in globalisation
Cross-cutting programme: Asymmetries, public action and scale games.
Label : Joint Research Unit (UMR)
Main supervisors: CIRAD, CNRS, UPVM, UPVD
Secondary supervision: UM
Scientific Department: Economics
Doctoral schools:Economics and Management; Territories, Time, Societies and Development
Contact
Paul Valéry University
Site Saint Charles
Route de Mende
34199 Montpellier cedex 5 France
Publications (HAL extraction)
Select a year :