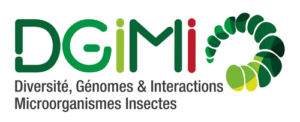 The research developed in the DGIMI unit aims to decipher - through integrative approaches - the multitrophic interactions between insect pests and their environment, and the mechanisms of adaptation to the host, in order to ultimately contribute to improving plant protection against insect pests.
The interactions between the insect (lepidopteran model), its suite of parasites and pathogens and its host plant are addressed in the unit through several cross-cutting themes including
 the molecular mechanisms governing these interactions;
their diversity;
and the role of associated microbiota.
The expertise of the DGIMI unit covers various disciplinary fields (microbiology, virology, immunity, functional genomics, population genomics and comparative genomics) applied to the insect model and to the study of multitrophic interactions.
Label : Joint Research Unit (UMR)
Main supervisors: UM, INRAE
Scientific Department: Biology and Agrosciences
Graduate school: Biodiversity, Agriculture, Food, Environment, Land, Water
Publications (HAL extraction)
Select a year :