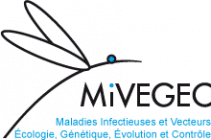 MIVEGEC develops integrative research on the molecular and ecological mechanisms that maintain and/or amplify the maintenance and transmission of pathogens.
The themes cover a broad spectrum, combining fundamental aspects of biology, genetics, ecology and evolution of parasitic and symbiotic systems with more finalised objectives of developing tools and strategies capable of reducing the spread of diseases in humans and animals, in particular through integrated management of ecosystems and the control of insect vectors
This places MIVEGEC at the interface between Public Health and Environment, Biology and Medicine, Ecology and Evolution.
This research applies to various infectious models (parasites, viruses, bacteria, etc.) as well as to non-infectious models such as cancer.
Label : Joint Research Unit (UMR)
Main supervisors: CNRS, UM, IRD
Secondary supervision: INRAE
Scientific Department: Biology, Ecology, Evolution, Environment, Earth and Water Sciences
Doctoral schools: Chemical and Biological Sciences for Health; Biodiversity, Agriculture, Food, Environment, Earth, Water
Contact
IRD
911 Avenue Agropolis
BP 64 501
34394 Montpellier Cedex 5 France
Publications (HAL extraction)
Select a year :
2022
Chapitre d'ouvrage
titre

auteur

Ramsès Djidjou-Demasse, Cassandra Lemdjo, Ousmane Seydi

article

Nonlinear Analysis, Geometry and Applications, 2022

Accès au texte intégral et bibtex
Pré-publication, Document de travail
titre

auteur

Ramsès Djidjou-Demasse, Mocatar Kandé, Ousmane Seydi

article

2022

Accès au texte intégral et bibtex