Partir en livre on July 15 & 16 at the Jardin des plantes in Montpellier
Jardin des plantes de Montpellier (Entrance located Bld Henri IV)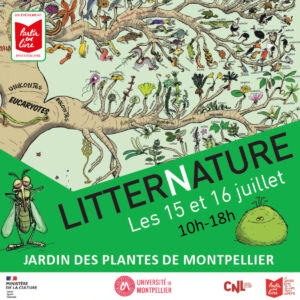 On the occasion of the 2021 edition of Partir en livre, the scientific culture service of the University of Montpellier invites children aged 6 and over to play the role of naturalist explorers.
Throughout these two unique days, the Jardin des plantes becomes an exploratory playground offering the opportunity to discover plants and insects of the world and the Mediterranean.
Through various activities mixing literature and science, the young public will be able to discover the secrets of these species with unsuspected superpowers. They will be invited to discover the hidden biodiversity in a selection of books (novels, comics, Mangas...) and will have the opportunity to meet the author Claire Lecoeuvre and the illustrator Gilles Macagno, during animations and signing sessions.
Partir en livre 2021, from June 30 to July 25
Organized by the National Center of the Book (CNL), under the impulse of the Ministry for the Culture, this national event puts the book and the reading in the honor by proposing to take the books out of the shelves to go to meet the young public on their places and times of leisure.
The scientific culture service of the University of Montpellier is involved in this 7th edition with a diversified program of animations around natural sciences and children's literature:
Naturalist and literary workshop "Litternature
Writing workshop "the superpowers of insects
Drawing workshop "And if I were an insect
Tell me a story and draw vice versa" workshop
Cabinet of curiosities of imaginary insects and plants
Thematic visit on remarkable plants
Practical information :
Thursday 15 and Friday 16 July from 10 am to 6 pm
Jardin des plantes de Montpellier (Entrance located Bld Henri IV)
For children aged 6 years and over
Free entrance
Activities on registration at the reception of the Jardin des plantes (limited number of participants)