Beyond Color" Exhibition
Exhibition by Frédéric Bouffandeau from October 13, 2017 to December 14, 2017 (Monday to Friday)
Cultural space of the Faculty of Education (Montpellier site)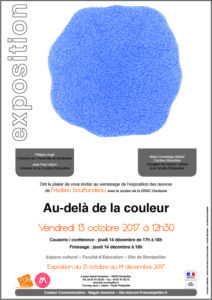 Opening Friday, October 13, 2017 at 12:30 p.m.
Talk / Lecture Thursday, December 14, 2017 from 5:00 to 6:00 p.m.
Closing December 14, 2017 at 6 p.m.

"The issues of the work are to explore questions related to painting and its spaces. The organic, the architecture are the elements that form the basis of my reflections.
The mediums used are drawing, painting, volume, light and moving image.
I am looking for the tensions that can arise from the reduction of means, trying to bring the mediums I use as close as possible to the space occupied.
A single form is the tool from which everything starts. To the act of demultiplication often answers the occupation of a space, reconsidering then the problem of the whole to the part. Putting the body of the viewer at the center of the work, in order to reconsider the situation of the painting within the very place where it is located."
Frédéric Bouffandeau
This exhibition is supported by the DRAC Occitanie.