TO PROTECT THEMSELVES AND OTHERS
Mask recommended for indoor areas
Since 14 March 2022, the wearing of masks is no longer mandatory. However, in view of the resurgence of cases of COVID at the University, it seems important to us to strongly recommend its use indoors.
We would also like to remind you that barrier measures must be respected and the premises ventilated as much as possible.
The epidemic is not over and people infected with COVID, whatever their age, may experience fatigue that can have a lasting impact on all their activities and sometimes severe symptoms. It is therefore important not to relax our vigilance.
Reminder of barrier gestures:
wash hands very regularly, greet without shaking hands, avoid hugging, keep a distance of at least 1 metre as soon as possible, cough or sneeze into your elbow or into a handkerchief, use a single-use handkerchief and throw it away, avoid touching your face
Special provisions apply in the BIU, SUAPS courses, cafeterias, etc.: ask for information.
SUSPICION OF COVID OR COVID POSITIVE?
If you have COVID symptoms, call your GP or a doctor.
If you have been in contact with someone who is COVID+ or who needs to be tested: call your GP or a doctor for advice on what to do.
If you have any questions about your course (attendance, etc.), please contact your Faculty, School or Institute.
For all medical questions, and in particular for students at risk of COVID, you can contact the preventive medicine service.
For all other questions: email.
41 ambassadors deployed on different campuses
Trained by the Service commun de médecine préventive et de promotion de la santé (SCMPPS), these 41 students are present on the different sites of the University of Montpellier to inform you and remind you of the barrier gestures.
In view of the exceptional circumstances, we should bear in mind that the government's measures are designed to protect the health of all. Close physical encounters between people should be limited.

Finding yourself, a solution: vaccination
Vaccination against COVID has a double protective dimension, individual and collective. It reduces the risk of infection to those around you and is currently the only way to prevent severe forms of the disease. The university is a place where we constantly interact with others, so it is important to achieve the highest possible vaccination coverage among students and staff.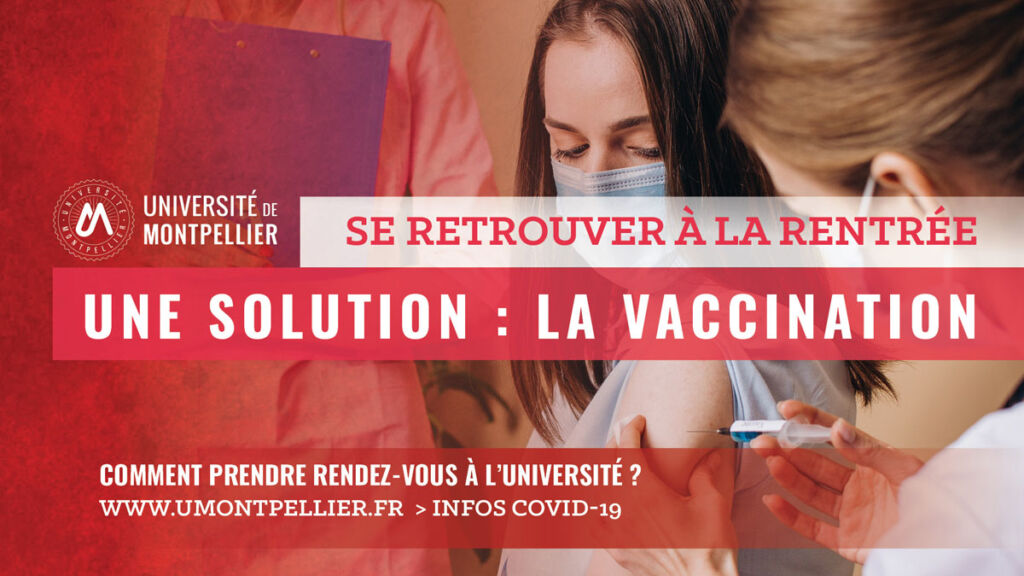 There are several opportunities to get vaccinated over the next few days at three university sites.
The validated calendar is below. It is possible to come without an appointment.
If you are unsure, it is also possible to get advice on vaccination, without necessarily being vaccinated. For those who have one, the "carte vitale" is necessary.
We hope that you will take advantage of this system, which has been set up directly at our university, so that this academic year can take place in the classroom.
1st dose
At the MDE Triolet on 7 October, 11am-3.30pm, no appointment necessary
At the MDE Richter, 14 October, 11am-3.30pm, no appointment necessary
1st and 2nd dose
Pharmacy site on 12 October, 11am-3.30pm, no appointment necessary
MDE Triolet on 18 October, 11am-3.30pm, no appointment necessary
You can also download the addresses of the different vaccination centres near the different campuses of the University of Montpellier and throughout Occitania.
Information for staff and students
All Anti Covid" application
Launched on 22 October 2020the application "AllAntiCovid aims to make it easier for people who have been in contact with a person who has tested positive for Covid-19 to be informed and to speed up their treatment. This new application complements existing barrier measures.
University committed to fighting the spread of the Covid virus19
Scientific potential
With the CEMIPAI service laboratory, which is one of the largest L3 microbiological safety research structures in France, the University of Montpellier and the CNRS offer the scientific community the opportunity to work in a controlled atmosphere on infectious biological samples and class 3 biological agents, such as the human immunodeficiency virus (HIV), hepatitis viruses or mosquito-borne viruses (Chikungunya, Dengue, Zika), pathogenic bacteria and prions.
CEMIPAI works in particular with researchers from theMontpellier Infectious Diseases Research Institute (IRIM / UM, CNRS), those from the multidisciplinary research unit Pathogenesis and Control of Chronic Infections (PCCI / Inserm, UM, EFS) on the question of antibodies, and those from theMax Mousseron Biomolecules Institute (IBMM / CNRS, UM, ENSCM).
Solidarity with carers and patients
In solidarity with carers and patients, the University is organising a collection of medical equipment (protective masks, gloves, gowns) in the research laboratories for the benefit of the Montpellier University Hospital. This operation is coordinated by Pr Jacques Mercier, Vice-President in charge of research.
Facilities set up by the University of Montpellier
Further information
Contacts at the University of Montpellier: email.
Various local, national and international studies are underway on containment issues. We invite you to participate in them: