HayKa: for a better structuring of Malagasy doctoral schools
Coordinated by the University of Montpellier and conducted in collaboration with six Malagasy universities, the University of Mons in Belgium and the Institute of Research for Development (IRD), the HayKa project aims to improve cross-disciplinary training and develop the employability of doctoral students in Madagascar. It is funded by the European Union's Erasmus+ program with a budget of 700,000 euros for a period of three years.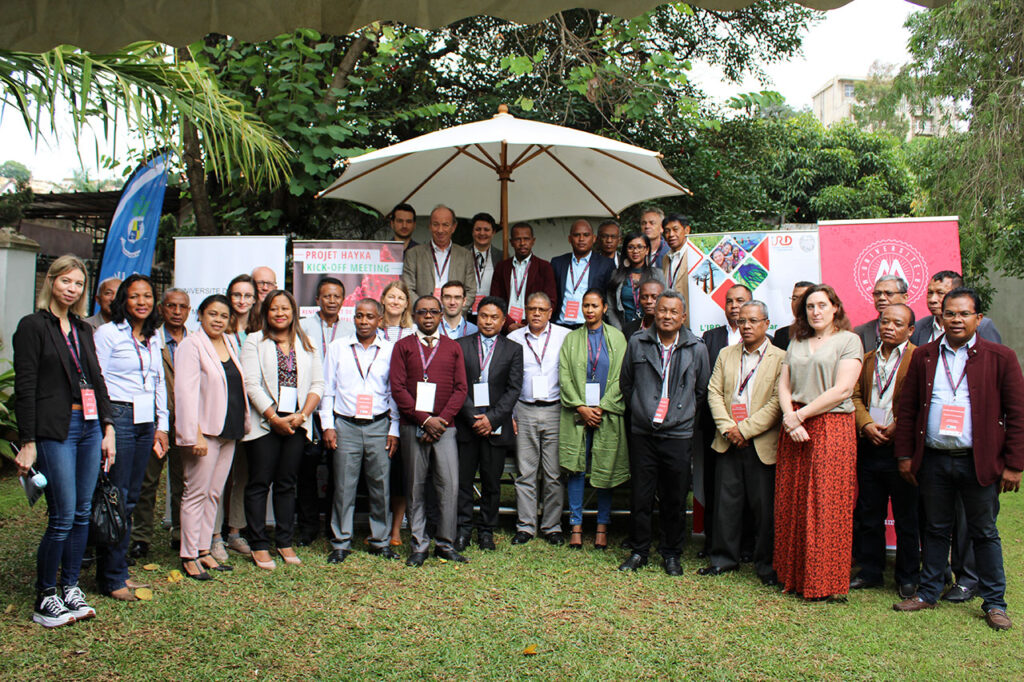 "The project focuses on 10 areas of work, ranging from global management to interdisciplinarity, training of doctoral schools and trainers, links with the private sector, the use of digital tools, management and internationalization, quality and communication," explains Marc Bouvy, scientific coordinator of the project and director of research emeritus at theIRD.
Last February, nearly 30 researchers from 9 graduate schools and 6 universities gathered in Antananarivo, Madagascar for the HayKa project kick-off meeting. During five days, a collaborative approach was adopted to explore all the work areas and to develop an action plan for the next three years.
Improve the quality of doctoral training 
HayKa includes a multi-level training process to improve the quality of doctoral training. Indeed, the project plans to develop the skills of doctoral students in addition to their scientific knowledge, particularly in communication, stress management, management, emotional intelligence etc. " This step is essential for the personal and professional development of future researchers, as it allows them to reinforce the learning of transversal tools and to better value their skills towards employers ," says Marc Bouvy.
Teacher-researchers will play a key role and will benefit from training in doctoral supervision through two sessions planned for 2024. This program aims to train about thirty supervisors per year, as well as administrative and technical staff of doctoral schools to ensure better follow-up of doctoral students. In addition, the directors of doctoral schools, administrative and technical staff, and teacher-researchers will participate in a study visit to the University of Montpellier in 2025 to exchange best practices and identify opportunities to strengthen the quality of doctoral training.
Create a strong network between companies and young graduates 
In May, the UM's Service commun universitaire d'information, d'orientation et d'insertion professionnelle(SCUIO-IP) will launch a survey to identify issues related to doctoral training. This survey aims to collect data on Malagasy doctoral graduates, whether they are currently studying or have graduated five years ago. "During the launching workshop, the exchanges were very enriching, testifying to the strong involvement of the partners who were fully invested in the project. More than 550 people, including 300 doctoral students and more than 250 PhDs, are involved in this study," said Elliott Cholet, project manager at UM's International Relations Department. This survey will eventually make it possible to analyze their academic careers, their post-graduation professional situation, and their aspirations in terms of training and support for professional integration.
Hayka also plans to organize events to stimulate the employability of future PhDs in Madagascar, such as Doctoriales®, PhD student-company meetings, a summer school, as well as the creation of a platform dedicated to PhDs and the sharing of working tools. " Several local companies have already expressed their interest in future events by providing letters of intent, and a network of professionals is being formed to ensure the success of the project," concludes Elliott Cholet.     
Partner universities:
The University of Antsiranana: Doctoral school on renewable energies and environment (EDT ENRE) 
The University of Fianarantsoa: Doctoral School on Governance and Changing Society (ED GOUVSOMU) and Doctoral School on Modeling and Computer Science (EDMI) 
The University of Mahajanga: Doctoral School of Natural Ecosystems (EDEN) and Doctoral School of Life Engineering and Modeling (EDGVM) 
The University of Montpellier