MOOCs at the UM!
Innovative business creation, entrepreneurship and growth attitude, sales force management, history of science, and accounting and management are on the agenda of these free online courses open to all.
Create and develop your sports association
IUT of Nîmes
> Course starts on June 10, 2020
You want to develop your sports association? Find new funding? To make yourself better known? The MOOC " Create and develop your sports association " will allow you to acquire the necessary knowledge.
This is the first MOOC in Sports Organization Management, it has the following pedagogical objectives:
Understand the basics of organizing a sports association
Identify the sources of funding for your association
Be able to make your project known
Whether you are a volunteer, a volunteer manager, an employee of a sports association, a student in STAPS or in sports management, a trainee in BPJEPS training, in CQP in the sports sector, a sportsman or woman in retraining... do not hesitate to register.
Apprenticeship training in higher education
CFA EnSUP-LR
> Course starts on April 06, 2020
This MOOC aims to discover the possibilities offered by apprenticeship training in higher education. It concerns all the components that develop this training path.
MOOCs offer many possibilities for guidance and for introducing high school and university students to training paths they are not used to, to help break social reproduction and open up the field of possibilities.
Apprenticeship training in higher education is still not well known by high school and university students, but also by teachers. However, the development of this training pathway is a crucial issue that concerns several components.
This MOOC will allow you to:
To know the specificities of apprenticeship training and the status of the apprentice, its advantages and disadvantages
Identify the training courses and trades accessible through apprenticeship
To understand how an apprentice combines his life in the company with his life as a student
To find an apprenticeship contract
Information on the FUN platform (France Université Numérique)
Diversity Management / Inclusion Diversity in Motion
IAE Montpellier
> Course starts January 30, 2020

You think that each of us, with his differences, can contribute to the life of companies? This MOOC is for you! It proposes to improve skills in the field of diversity management and the development of inclusive business models.
It is of interest to business actors or any organization, but also to students in initial training. It aims to train anyone involved in the life of an organization, to what an inclusive company is.
It allows to equip all those who wish to practice management by valuing all the diversities for a better well-being and a better-action in companies.
This French-English MOOC is also open to managers and experts in the world of diversity. At the end of this training, participants will be able to better understand, lead and evaluate a diversity policy while respecting the equality of all, without discrimination.
Management of alliances, partnerships and coopetition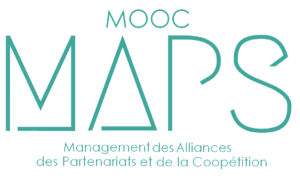 Institut Montpellier Management (MOMA)
> Course begins September 10, 2019
The Observatory of Alliances and Partnerships (OBSAP), the Labex Entreprendre and Montpellier Management (MOMA) of the University of Montpellier launch the second edition of the MOOC MAPS (Massive Open Online Course) dedicated to the Management of Alliances, Partnerships and Co-operation.
Are you a student or a practicing executive who aspires to become a manager of alliances and partnerships? Are you a practicing alliance manager and want to improve your professional practices? You are a business executive and you want to better understand the role of alliances and those who manage them? The 2019 edition of the MAPS MOOC is for you!
Financing Innovation
IAE Montpellier
> Classes start on March 28, 2019

This MOOC is dedicated to the financing of innovation. The stakes are high, because without capital, an idea, however innovative, cannot develop. The course is divided into 4 weeks, each of which provides answers to the different questions that can be asked when trying to finance an innovation:
How does innovation funding work?
Who are the actors of this profession? What influence do they have on projects and their development? How do they deal with risk?
How are innovative projects evaluated?
What kind of governance is adapted to the innovative company?
This MOOC offers a practical approach but also a reflection on these issues. You will discover many testimonies of professionals, allowing to illustrate the course videos with feedbacks. The first season is mainly focused on the financing of innovation within startups, but also concerns all types of companies.
Sales force management: 3rd edition
IAE Montpellier
> Classes start on October 18, 2018

In November 2015, IAE Montpellier launched the 1st session of the MOOC Innovative Business Creation: from Idea to Startup.
Starting Thursday, October 18, 2018, the online course makes its big comeback on the FUN platform (France Université Numérique). This is the third season of this MOOC, the first two having gathered a total of more than 30,000 registrants!
You can follow all the news of the MOOC on Twitter @MOOCCEI or Facebook!
Metabolomics: technological and scientific challenges
> Classes start on October 1, 2018
Are you a student in a science degree or master's program (biology, chemistry, mathematics, physics, computer science, etc.) and are you interested in metabolomics, this new scientific and methodological approach?
You are a researcher, teacher-researcher, engineer or technician and you wish to learn about metabolomics in order to integrate it into your research project?
You are a company manager or an industry player, you are interested in metabolomics and you hesitate to take the step?
We invite you to participate in the Massive Open Online Course (MOOC) Metabolomics: scientific and technological challenges with the participation of Frédérique COURANT member of theHydrosciences Unit of the University of Montpellier.
Management accounting and spreadsheet practice
IAE Montpellier
> Course starts on 19 Apr 2018

The 3rd version of the Management Accounting and Spreadsheet Practice MOOC will be launched on April 19 in an enriched version. To date, there are already more than 5,000 registrants!
This free course will allow you to understand the techniques of cost calculation, but also to master their implementation in a spreadsheet. This MOOC has been selected as a Pilot MOOC for the Eiffela project: increased accessibility (subtitles in addition to the scripts) and interactive videos. This year, we are also offering 2 courses, the discovery course and the advanced course: a brand new way to learn management accounting, at your own pace!
Throughout the 6 weeks of the course, participants will be able to familiarize themselves with these notions, which are essential to understanding the functioning of a company.
Suicidal behaviors: identifying and preventing
> Course starts May 29, 2018
From May 29 to July 10, 2018, the Faculty of Medicine of the University of Montpellier, in partnership with the University Hospitals of Montpellier and Nîmes and the National Institute of Medical Research, is offering an online training course, free and open to all (a "MOOC") on the FUN MOOC platform.
Facing a completed suicide or a suicidal person questions our own experience. These people are people like others, like all of us, for whom life has become a source of suffering. To understand them is to understand ourselves, to discover the weaknesses of our personality, the shortcomings of our environment, of our society.
With this MOOC, the University of Montpellier proposes a training accessible to all people interested in the suicidal issue, for personal, professional, scientific or even philosophical reasons. The pedagogical team will try to have a transversal approach of suicide: epidemiology, social and cultural determinants, psychological theories, clinical factors, prevention methods or scientific studies drawing the suicidal brain.
This course is intended for all those who are concerned with the issue of suicide.
Suicide is a public health issue that is too often ignored. It is time to become aware of the extent of the problem!
Creation of innovative companies: season 2
This is the second session of this MOOC dedicated to the creation of innovative companies. Among the new features, discover new interviews of entrepreneurs, but also a video of a lawyer specialized in corporate law who will give you details about legal statutes and relationships between partners. The first session had more than 13,000 registrants!
By following this course, learners will have a global overview of business creation and will be able to understand its different aspects. Elements of answers to the essential questions of business creation will be addressed:
How to evaluate the validity and feasibility of an innovative idea?
How to go from the idea to the project thanks to an adapted Business Model?
How to set up a financial business plan?
How to finance an innovative company and what are the investors' criteria?
What assistance and advice is available to project leaders?
At the end of this MOOC, participants who have a business creation project will have the tools to make it happen. Learners who do not have a project will have a clear overview of the process of creating a business and the opinion of several experts in the field.
Thinking and Piloting your Business Model with the Balanced Scorecard
Montpellier Management Institute
> Registrations are closed

Starting May 16, 2017, the Montpellier Management Institute will offer a MOOC "Thinking and Piloting Your Business Model with the Balanced Scorecard" for business leaders, students, startupers, and anyone curious about the Balanced Scorecard.
Entrepreneurship and Growth Attitude
Montpellier Management
> Registrations are closed
Starting October 10, 2016, Montpellier Management will offer a MOOC "Entrepreneurship and Growth Attitude" for startupers, students, entrepreneurs, employees, and anyone curious about business growth. The MOOC will offer reflections and tools to guide business creators or developers in a growth approach. This MOOC is a real lever for success and is part of a desire to provide support.
The History of Science: An Introduction
Faculty of Education
> Registration is closed

Whether you are a student or simply curious, this MOOC offers you a look back at the history of science, from ancient Greece to the 19th century. Scientists and philosophers of science will follow one another for 7 weeks to present the conditions of emergence of scientific theories and their impact on society through the ages. Four major periods will be addressed in the company of four teachers from the Master's program "History, Philosophy and Didactics of Science", a joint UM-University of Lyon program. For Muriel Guedj, historian of science and initiator of the MOOC, it is a matter of promoting " a critical vision of science, whose evolution is embedded in social, cultural and political contexts".
The teachings of the MOOC will be completed by the intervention of renowned scientists, the philosopher Pascal Nouvel, Etienne Klein, physicist and host of La conversation scientifique on France culture or the astrophysicist Marc Lachièze-Rey. They will be given carte blanche to discuss the key notion of origin...