After the obligatory registration process, nearly 49,000 students will be joining the 16 faculties, schools and institutes of the University of Montpellier.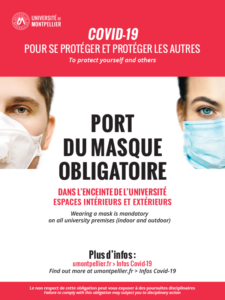 A new school year like no other, linked to the COVID-19 health crisis, which requires everyone to apply the barrier measures, in particular the compulsory wearing of masks in the university premises (indoor and outdoor areas).
I choose the UM!
The University of Montpellier is multidisciplinary but also multisite, it spreads over several campuses and even over various towns in the region: Béziers, Montpellier, Nîmes, Sète, Mende...
Its 49,000 students are roughly equivalent to the population of the city of Narbonne. A university in full effervescence and where life is good, with its campuses open to the city, its prestigious heritage and its cultural and associative life.
Life at the UM
The must-haves
Digital working environment (ENT)
All students at the University of Montpellier have access to all online digital services via the ENT. It is an essential entry point for students, allowing them to access all online resources in one click.
Pass'Culture: enjoy culture at low prices
The Pass'Culture is a scheme offered by the CROUS to give students (up to and including 30 years old) access to ticketing at very special rates.
Multiservice student card
After registration and admission to the University of Montpellier, each student receives a multiservice student card.