LUM : the UM science and society magazine
The eighteenth issue of Lum magazine plunges you into the oceans, a vast research field for scientists who explore all its dimensions.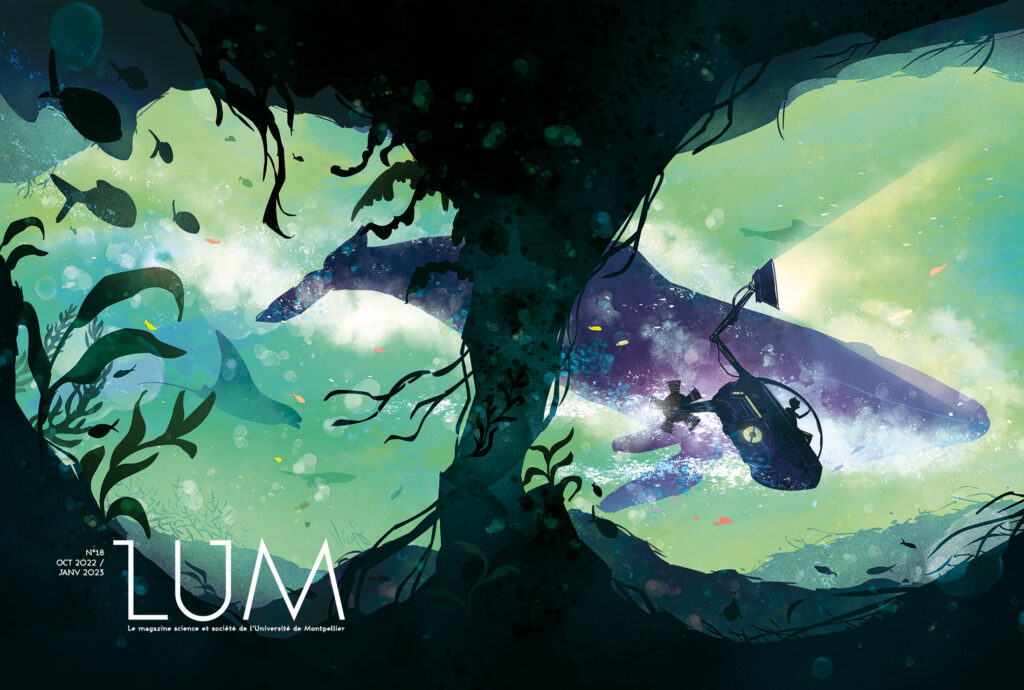 The planet Earth is 72% covered by the oceans. From the surface to the abyss, from the beaches to the open sea, biologists, geologists, computer scientists, economists, mechanical researchers and political scientists are working to better understand and protect this environment and those it shelters.
This new issue of Lum magazine invites you to accompany them in their missions and explorations. Exploring is the theme of the first section of this issue, where researchers from the University of Montpellier and its partners take you to survey Arctic fauna, observe underwater faults, excavate ancient shipwrecks or enjoy a good fish on the Moon.
The ocean is also a source of food exploited and even overexploited by man. How to use these resources sustainably in order to reconcile food, economy and preservation of biodiversity in a context where pressures are ever increasing? This is the abysmal challenge that scientists are tackling, in the perpetual concern to bring science and society together.
Finally, the ocean is an ecosystem that is still poorly understood and that researchers are studying in order to better protect it, such as the turtles that are monitored by biologging or the corals that are suffering the full force of warming waters. It is also the habitat of those who live near the coasts and whose whole existence is or will be disrupted by the rising waters.
Dive into this ocean of knowledge by reading this issue of Lum, now in an expanded version, which offers access to videos or podcasts of the program A l'UM la science.
(If you would like to receive a paper copy of Lum, please send an email to Aline Périault, Lum's editor-in-chief, with your contact information).
Bonus:
Presentation on Radio Campus Montpellier
Radio Campus Montpellier devoted a portion of La Matinale on November 25, 2019 to the magazine "LUM" (to be found starting at 31 minutes and 40 seconds).