University of Montpellier - Maison des étudiants - Richter site.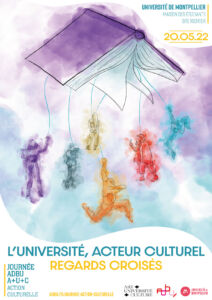 University cultural action is one of the fundamental missions of higher education institutions.
As part of the cultural landscape, it complements the policies of the local authorities and cultural players. Its specificities lie in the close relationship it maintains with research, teaching and the dissemination of knowledge. Its audiences are at the same time the recipients, the producers and the actors.
How is the concrete implementation of these missions organised within the institutions? What forms does collaboration take in the universities? What are the opportunities or, on the contrary, the obstacles to concerted action by the services? How is the cultural policy of the institutions defined and embodied on the campuses and in the territories? How does culture enter the university? How does the university present itself as a cultural player?
Come and explore these questions with ADBU and A+U+C on 20 May 2022, at the Richter MDE, during a study day bringing together the actors of culture at the university.