Institut Montpellier Management - Espace Richter - Rue Vendémiaire, 34000 Montpellier.

11th Congress of the Academy of Entrepreneurship and Innovation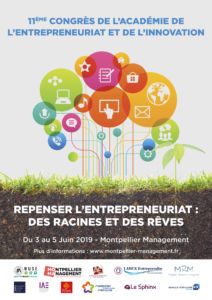 From entrepreneurial emergence to takeover via intrapreneurship or scalability, entrepreneurial action is everywhere and is taking over disciplines such as marketing, strategy and finance. For a long time wrongly circumscribed to business creation, entrepreneurship has become a societal cause. If start-ups, scale-ups and unicorns are the stuff of dreams, what about the life-style entrepreneur, the tribal entrepreneur, the agricultural entrepreneur, the user-entrepreneur, the hyper-connected intrapreneur, etc.?
Does this diversity of entrepreneurial forms not call for a rethinking of entrepreneurship, strengthening its theoretical roots to better ensure its development and the emergence of new perspectives?
Revisiting entrepreneurship to better (re)think it. Discovering new fields of expression of entrepreneurial logic. Explore new theories. Consider new research designs. Identify new challenges to be met, new actors to be involved. To develop links with other disciplines that allow a better understanding of the entrepreneurial fact and its current evolutions.
This congress will thus be an opportunity to reflect on what characterises entrepreneurship today and the perspectives that are opening up for tomorrow.
Sylvie Sammut, President of the AEI Congress 2019
Scientific Council: Jean-Marie Courrent and Frank Lasch
Steering Committee: Sophie Casanova and Annabelle Jaouen
Project and Communication Officer: Claire Riffat
---
Key note speaker: Robert Blackburn, Professor at Kingston University of London and Editor in Chief of the International Small Business Journal.

---
Contact: email
Calendar :
26 January 2019

Receipt of papers (short (max 3000 words) or long).
This date is important for all tracks and calls for papers.

15 March 2019

Notification to authors by the Scientific Committee.

19 April 2019

Receipt of revised papers, short or long, in their final version.
Only authors who have paid their registration fee and are present at the Congress will have their paper published on the AEI 2019 website.
15 May 2019

Registration closed for the Gala Dinner and Lunch on 5 June

20 May 2019

Registration closed for the choice of social events

24 May 2019

Closing of all registrations for the AEI Congress 2019.

3-5 June 2019

Congress
The 7th edition of the Pro'créa congress will be held following the AEI, from 5 to 7 June 2019 in Montpellier and Sète, around the theme: "Should we continue? The keys to reinventing entrepreneurial support".
More information on the website: www.procrea-lecongres.blogspot.com
Programme
Award ceremony
The Sphinx will award 2 prizes during the congress:
best empirical paper award ;
prize for the best doctoral student.
These will be presented during the gala dinner (see programme) by Boris Moscarola, Associate Director of Le Sphinx.
Registrations
Please send your requests (sending forms, questions...) by e-mail by clicking here.
Accommodation
Call for papers :
Intra-track call for papers :
Call for off-track papers :