IUT Montpellier-Sète, building A, Amphi 2, then in front of the building - 99 avenue d'Occitanie, 34090 Montpellier.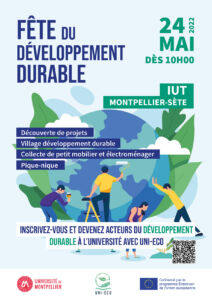 UNI-ECO is THE project for sustainable development on campus. Led by the University of Montpellier, in partnership with the University of Barcelona, the University of Utrecht, Trinity College Dublin and Eötvös Lorand University in Budapest, this initiative aims to draw on the experiences of each of the five campuses mentioned to develop practices related to sustainable development.
Are you sensitive to the issues of sustainable development and want to know more about how you can take action on campus? Or perhaps you are yourself a sustainable development actor within your institution or in your everyday life? Take part in the UNI-ECO Sustainable Development Festival, organised at the IUT Montpellier-Sète on Tuesday 24 May from 10am to 2pm. It will be an opportunity to learn more about UNI-ECO's fields of action, and in particular about the Green Challenges, projects that are the result of the creativity and sense of initiative of the students and staff of the University of Montpellier.
You will certainly find inspiration to develop your own project and become an actor of sustainable development at the University.
One of the highlights of the event will be the Student Recycling Centre project, which will offer the possibility of dropping off your small furniture and household appliances at the event. This equipment will be collected and then redistributed to other students at the beginning of the new school year in September, thus giving them a second life. Do not hesitate to support their initiative and come and drop off your unused equipment.
A picnic will be offered to allow for a tasty and convivial time of exchange.